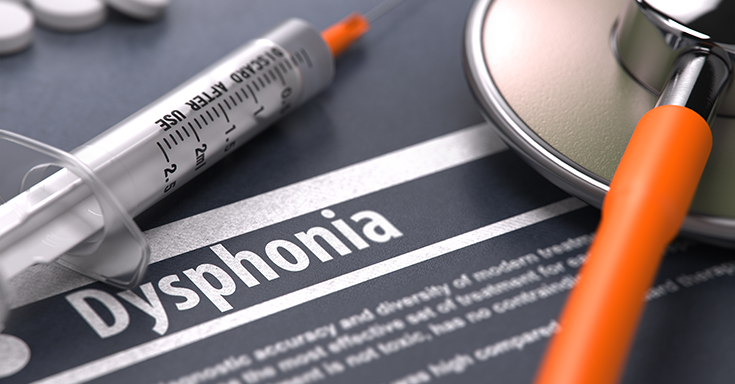 Diagnosing & Treating Dysphonia Online
Dysphonia is a neurological disorder that affects the voice muscles. Speaking causes the air from the lungs to flow between the vocal folds or vocal cords, which are two elastic cords. The air is sent between the vocal folds with enough pressure that they vibrate and produce sound, or voice. When someone is experiencing spasmodic dysphonia, the muscles in the larynx will spasm, causing the voice to break. The voice may also sound strained, breathy, strangled, or whispery.
There are three forms of spasmodic dysphonia:
Adductor spasmodic dysphonia, the most common form, occurs when the vocal cords slam together and stiffen, which causes speech to sound choppy. Stress tends to increase the number of spasms. Meanwhile, spasms are nonexistent during certain actions, like laughing or crying.
Abductor spasmodic dysphonia causes the vocal cords to open, which also makes it difficult for the cords to vibrate. Because the vocal cords remain open, more air escapes resulting in a weak or breathy sounding voice.
Mixed spasmodic dysphonia is a combination of the two.
During a video consult on TelaCare your doctor will ask you a series of targeted questions to determine if your symptoms point to dysphonia. Then your provider will proceed to determine the best treatment plan for you. Your provider may recommend in-person examination by a specialist if needed. Your treatment plan is based on the duration and severity of your symptoms and your medical history.
Once a diagnosis has been made, your doctor will go over the risks and benefits of the various treatment plans. Treatment for dysphonia is different depending on the severity.
Options for treatment of dysphonia may include:
Botulinum toxin injection (botox)
Behavioral therapy
Augmentative devices
Surgery